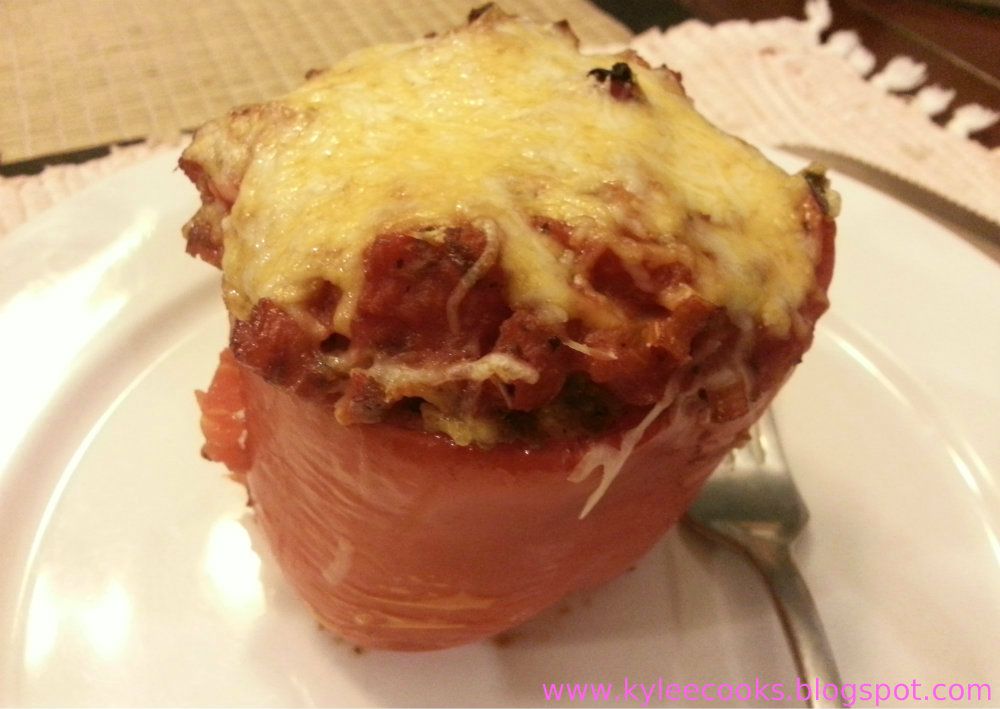 I cannot believe I've never had these before. Seriously. How did I not know about this?!
After visiting a farmer's market and getting a screaming deal on peppers (and green beans, tomatoes, cucumbers and other things), I brought home around 10 red and yellow peppers (capsicums, Mum!)
I did a little search for some recipes for stuffed peppers, and found this one. It had to be modified, of course, to what I had on hand, plus I like to double the veggies, and halve the meat.
I had two leftover, so wrapped them in plastic, and then foil - and froze them. In a few days, I'll thaw, reheat and eat to see if I will be doing these for the freezer or not.
We really really enjoyed these. The little one had a desconstructed version :)
Source: Adapted from Southern Food
6 green bell peppers

(I used red and yellow)

1 tablespoons butter

1 tablespoon olive oil

1/2 cup chopped onion

(I doubled this)

1/2 cup chopped celery

(I doubled this)

1 can (14.5 ounces) diced tomatoes

1 can (8 ounces) tomato sauce

1 clove garlic, crushed

(I doubled this)

1 teaspoon dried leaf oregano

1/2 teaspoon dried leaf basil

(I doubled this)

Pinch red pepper flakes

2 teaspoons salt, divided

1/2 teaspoon ground black pepper, divided

1 egg, lightly beaten

1 1/2 teaspoons Worcestershire sauce

1 1/2 pounds lean ground beef or chuck

(I used 1lb)

1 1/2 cups cooked long-grain rice

shredded mild Cheddar cheese, about 1/2 to 3/4 cup, optional
Cut tops off peppers; remove seeds and membranes. Chop edible part of tops and set aside. Rinse peppers under cold water. Place peppers in a large pot; cover with salted water. Bring to a boil; reduce heat, cover, and simmer for 5 minutes. Drain peppers and set aside.




Heat olive oil and butter in a large skillet over medium heat until hot. Sauté chopped green pepper (from tops), chopped onion, and chopped celery for about 5 minutes, or until vegetables are tender.




Add tomatoes, tomato sauce, crushed garlic, oregano, basil, 1 teaspoon salt, and 1/4 teaspoon of pepper. Simmer for about 10 minutes.

In a large mixing bowl, combine egg with remaining 1 teaspoon salt and 1/4 teaspoon pepper, and Worcestershire sauce. Gently stir to blend; add ground beef, cooked rice, and 1 cup of the tomato mixture. Mix well. Stuff peppers with meat mixture and place in a 3-quart baking dish. Pour remaining tomato mixture over the stuffed peppers. Bake at 350° for 55 to 65 minutes. If desired, top stuffed peppers with a little shredded Cheddar cheese just before peppers are done; bake until cheese is melted.